The Ultimate Guide For Buying Vintage Car Radios On eBay.
Please note that this guide is a work in progress!
Even though I have been owning and restoring collector cars since the 1970's (yes, that's from the last century), I will always have a thing or two to learn. That's why this article is my advice, and it's based on my experience and my own two eyes.
I have committed the mortal sin of removing the original radio and replacing it with an updated aftermarket unit. I removed the AM 8-track radio from my 1972 Monte Carlo and replaced with a (cringe) AM-FM cassette radio – and threw away the original. All back in 1980.  So, I cast no stones at glass houses.
With that out of the way, I'll do my best to give to you my full attention and whatever wisdom I have gathered through the years…
Many Vintage Cars Had OEM Radios Removed
Let's face it – many of us who grew up in the 1960's – 1980's drove cars with plain-jane AM radios or even outdated, low-quality 8-tracks. We wanted our own music so many of us traded out the stock OEM radios for aftermarket AM/FM cassette units. We then unceremoniously disposed of the old radios – never giving this a second thought!
Some even cut out the dashboard to fit the aftermarket radios! My 1967 Pontiac Tempest had such a modification. The plastic dashboard and metal dash support was cut out to fit a modern aftermarket radio. I had to replace the plastic dashboard with a reproduction and I welded in new metal behind it to support the OEM AM radio. Lots of work, but that was representative of the modifications that happened back then.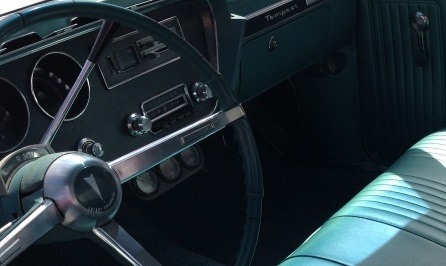 Now, we are restoring those old cars and trucks, and we want original OEM radios to complete the interior.
These OEM radios can be hard to find, but they're out there and I'll help you find a good one!
I Sell Vintage Car Radios On eBay
I've sold a lot of vintage car radios and vintage truck radios on ebay. Here – you can look me up – http://www.ebay.com/usr/dmm40 . I spend a lot of time researching other sellers and I've bought a lot of stuff on eBay as well. I have a pretty good idea what I'm talking about, and I can use some of that experience to help you get the vintage car or truck radio you need – on eBay.
I Can't Guarantee A 100% Successful Experience
I can help you avoid bad radios and unscrupulous sellers,but I can't reverse plain bad luck.
These vintage car radios are 20+ years old and are just aging and fallible machines at heart. Considering how most of them have been treated, it's amazing that any of them work at all!
The following are some of the most important steps you can take to make sure you get a good deal on eBay – no matter what you buy. If you follow my outline below, you'll practically guarantee yourself a successful purchase.
You've got to be sure which radio is right for your vehicle.
In many cases, you're buying a radio you're totally unfamiliar with, one you've never seen before and you might not know exactly what it looks like since your vintage car of vintage truck might not have come a radio when you bought it or may have some aftermarket radio installed.
Oftentimes, previous owners of vintage cars have taken saws and other power tools to cut the dashboard to "custom fit" another non-stock radio (see above). In this case, an OEM (Original Equipment Manufacturer) radio might not fit at all. We'll discuss this later.
Research Is Key
Research is perhaps the most important step. I'm going to break the research down into two separate areas –
Determining The Exact Radio You Need
Researching The Seller.
Find The Radio You Need
You MUST know exactly what you're looking for because very few sellers of vintage car radios are experts on the radios they sell. Many don't do any research at all themselves as the seller shown below indicates – maybe, maybe?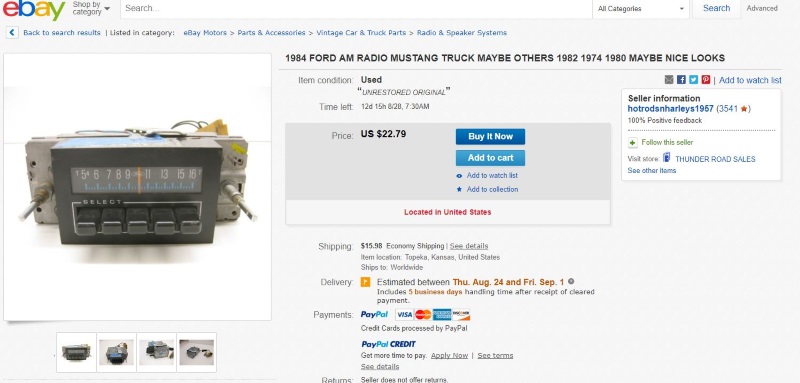 It's obvious this seller has no idea what year vehicle this radio goes to. Very few sellers will be the expert you need to identify the radio you need. So, you need to educate yourself so you don't make a costly mistake by buying the wrong radio.
Visit Car Shows
If you really have no clue as to which car radio is the one, you'll need to get some visual clues. One of the best ways to do this is to visit local vintage car shows and swap meets in your town.
Chances are that you'll find a similar car at the car show with an intact, original interior. Take lots of pictures! While you won't be able to see the radio model number, you will get a good idea what your OEM radio will look like. This is a good first step.
Google Interior Pictures Of Your Car
Another great resource that's right at your fingertips is the internet! Google your car's year and model for interior pictures and look at everything you can. I've often found this works best with more common vehicles, but you never know until you try!
Model numbers are sometimes stamped or stuck to the radio
If you're really lucky, the radio you need might have a positive ID in the form of a model number – see below). In this case, 6TPZ stands for a Philco radio for a 1966 Mustang – case closed! You could then feel very confident the radio would fit your car.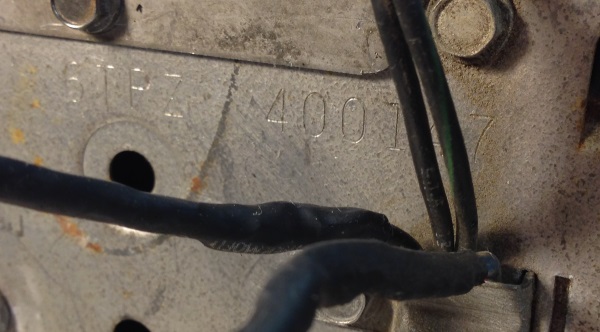 Many vintage car radios have (or had) glued-on pieces paper with the model number printed on it. If the radio was stores well (re: no moisture or rough handling) then the paper might still be in place and a positive I.D. could be made.
Unfortunately, many of these paper I.D. tags have come off years ago and you're back to square 1 trying to determine which radio is correct for your car.
Oftentimes, you can Google the model number and this information can help you determine which vintage OEM radio is right for your car or truck. This is no guarantee of a good match, but if you can find a few sources to confirm the your thoughts, you might have a match!
Research the seller
Now, the following is really something you should do before you buy anything online – find out if your seller has a good rating, usually earned by treating his/her customers well and delivering high-quality products.
Once you've determined exactly which vintage car radio you need and have located one on eBay, it's time to
Look under the "Seller Information" to the right of the listing (see below).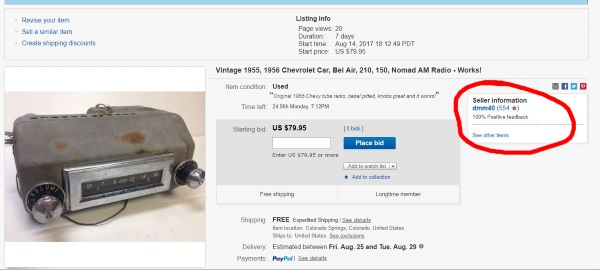 You cal also click on the number of sales they've made (the 554 number in this case) and see what sellers have said about each individual sale. You might not be able to see each individual item, but you can see the seller's comments. Author's note: the seller is me!
You really should see a very high seller rating – 98% and above for buying confidence.
If you click on the seller's I.D. you'll see something like this –

I like to look at the stars – item as described? Communication (important for questions)? Also, how long have they been a seller? I've been an eBayer since Nov 14, 1999 – almost 18 years! History like this should give you some confidence you'll have a good experience with a seller like this.
Ask questions
Finally, and this may be the most important part of the research process. Talk to the seller. Start the conversation by scrolling down to the bottom left of the eBay item page and find the  "Questions and answers about this item" subhead. Right below that will be questions about the item so far. If you don't get the answer you need, click the "ask a question" link. Now, you can hopefully get the answer you need.
Sometimes the seller will say that the radio has been tested and works great. Ask him if he'll send you a video of the radio working – for proof. I always make a video for working radios I sell.

No DOA (Dead On Arrival)
If he won't do this, ask the seller if he'll guarantee a no DOA (no dead on arrival). You don't want to be stuck with a radio that doesn't work.
Ask the seller if he'll let you return the radio if you're unhappy with it. You may have to pay for some postage (unless the seller has misrepresented the radio) but knowing that he'll guarantee your experience is a lot of peace of mind.
More Tips To Help You Get The Radio You Need
Research pricing
You should also do some research on selling prices for the radio you're looking for. This will help make sure you don't overpay. Price research can also educate you as to the going prices for the radios as well. To see the sold listings, scroll down to the lower left area of the page (you will need to already be searching for an item), see below.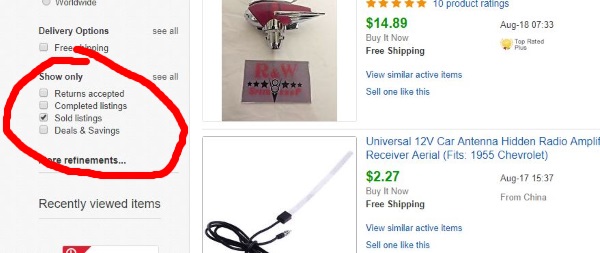 You can now go to the top of the page and sort by highest or lowest prices, etc.
Dimensions can help
Another thing you ought to do is contact the seller and have them give you critical dimensions – as shown below.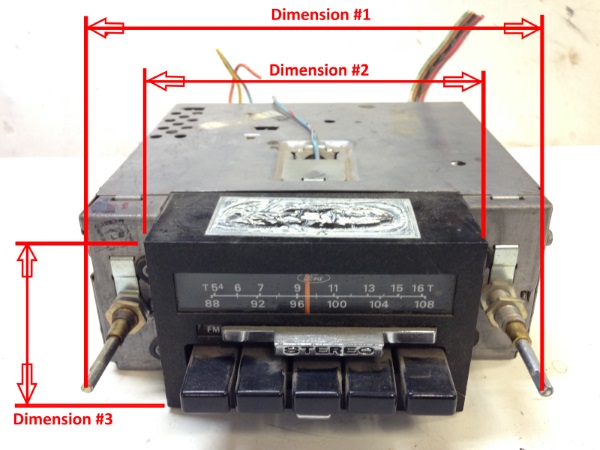 These dimensions can be a confirmation – or a denial – that the radio could fit your car.
Electrical Connections
For an easy installation and stock-appearing connection, you want to make sure the stock electrical plugs (if the radio came with them) are still connected to the radio.
Ford & Chrysler Radios
Many Ford radios have plugs on wires that stick out of the back or the side of the radio (see below, this is a later model Ford radio).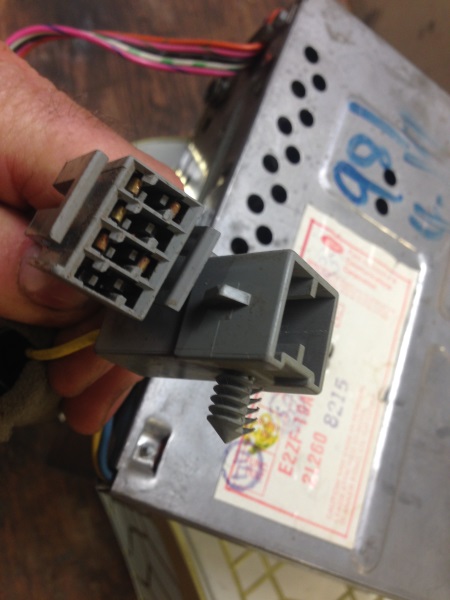 Unfortunately, some of the vintage radios that had plugs on wires hardwired to the radio have been cut – a victim to getting them out of the car, fast.
If your plugs have been cut, it's more difficult to identify power and speaker wires, though not impossible. For my money, I look for OEM radios with original plugs intact. That's the easiest situation for you to connect to your car and wind up with a working vintage radio that's correct for your car or truck.
GM Radios
Many GM products from the late 1960's on through the 1990's have outlets in the back of the radio for plugs that are wired to your dashboard – like this.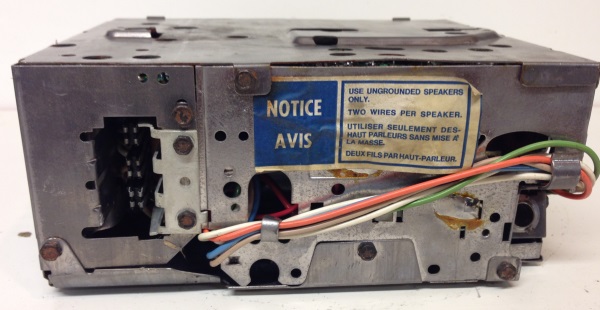 You should verify that your car or truck still has these plugs. If so, connecting your radio will be MUCH easier than hard-wiring it in. I might add that it could be REALLY difficult without these GM plugs!
Don't shop for the cheapest price
Don't always shop for the cheapest deal. You can always get a sub-par radio for a cheaper price. My advice – get the best radio for a good price. I want a radio I have a great confidence will;
Fit my car
Make for an easy installation
Work as intended
While my buying guide certainly doesn't cover everything, if you take my advice, are diligent, careful and pay attention to the details, your chances of ending up with a great vintage car radio will be increased greatly.