The Tempest and LeMans was introduced by Pontiac in 1961 as a compact sedan with a 112″ wheelbase and a unit body.
The Tempest/Lemans originally came standard with a 4-cylinder engine, called the "Trophy 4″ at 194.5 cubic inches. This engine was essentially one-half of a 389 V8.  These compacts also came with a swing axle rear suspension from the Corvair.
In 1964 the Tempest and Lemans  was built with a full perimeter frame (no more unit body) and gained 3″ in wheelbase for a total of 115".
The GTO, a high performance for the the Tempest was introduced in 1964 as the first of the high performance mid-sized cars of the 1960's. The GTO, designed and put into production by John Delorean violated an engine size rule within GM at the time – no more than one cubic inch for every pound of weight. The largest engine up to 1964 was the 326 cubic inch V8 for about 3,300 lbs of car.
The 1964 GTO was the one that every other manufacturer chased.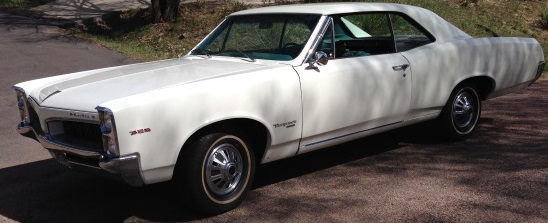 1961 Tempest, LeMans, GTO Radios
1962 Tempest, LeMans, GTO Radios
1963 Tempest, LeMans, GTO Radios
1964 Tempest, LeMans, GTO Radios
1965 Tempest, LeMans, GTO Radios
1967 Tempest, LeMans, GTO Radios
1968 Tempest, LeMans, GTO Radios
1969 Tempest, LeMans, GTO Radios
1970 Tempest, LeMans, GTO Radios
1971 Tempest, LeMans, GTO Radios
1961 Tempest, LeMans, GTO Radios
1972 Tempest, LeMans, GTO Radios
1972 Tempest, LeMans, GTO Radios
1973 Tempest, LeMans, GTO Radios
1974 Tempest, LeMans, GTO Radios
1975 Tempest, LeMans, GTO Radios